Top 10 Destinations
All aboard! If you're looking for ideas or not sure where to start, view our customer-selected, top 10 destinations.
Discover the Grand Canyon on a scenic train journey. Hike or take a river trip for stunning views. Look out for wildlife and capture unforgettable moments.
Deep valleys, ancient forests, and alpine scenery are only part of what makes Montana's Glacier National Park so utterly incredible.
Explore Yellowstone, America's oldest and largest national park. Witness geysers, waterfalls, and unspoiled forests. Home to 300+ geysers and hundreds of species of wildlife.
Architectural treasures line the streets of the French Quarter and luscious Cajun and creole cuisine can be found on every corner, while music fills the air from Jazz and blues to zydeco and funk.
From the White House to the Capitol, to the Jefferson, Lincoln and Vietnam Veterans Memorials, the city is a celebration of American history.
From iconic landmarks, such as the Empire State Building and the Statue of Liberty, to the bright lights of Broadway and Times Square, New York is truly one of the World's greatest cities.
Overlooking Lake Michigan, Chicago is a bustling metropolis with a friendly neighborhood feel. Known for its blues and jazz clubs, great restaurants and shopping and a vibrant theater scene, the city offers endless vacation options.
The famous horseshoe-shaped waterfalls have intrigued visitors from around the World for decades.
San Francisco is known for its Golden Gate Bridge, the markets at Fisherman's Wharf, and the steepest, crookedest streets often depicted in movies.
Welcome to the Canadian Rockies and all its beautiful destinations such as Banff, Lake Louise, Jasper, and Waterton. The Canadian Rockies are vast and filled with inspiring scenery, wildlife, and a multitude of recreational activities.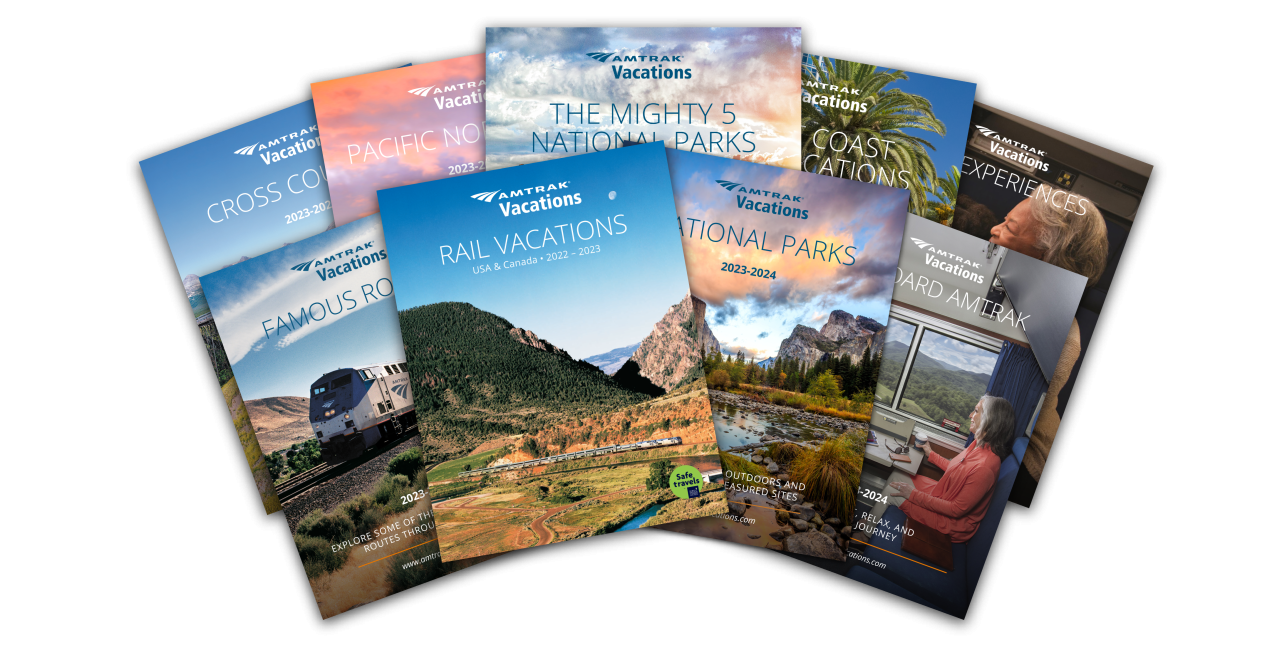 Resources available for you
Curious about the Amtrak dining menus? Want to download our brochures or maps? Looking for a guide to our National Parks? Simply select the resources you'd like to view and then start viewing your free resources instantly!